Amelia Island State Park protects more than 200 acres of unspoiled wilderness along the southern tip of Amelia Island. On Amelia Island you will find some of the most beautiful beaches and salt marshes. You will also find that the stunning coastal maritime forests provide visitors a glimpse of the Real Florida. Visitors can stroll along the beach, look for shells and sharks teeth, or watch the wildlife. There's no shortage of great beach vacation spots in the state of Florida.
Amelia Island State Park is Florida's only state park offering horseback riding on the beach! The ranch located on the park property, just before the ticket gate, is a historical property. It has been functioning as a horse ranch for over 50 yrs, with Happy Trails being the 3rd company operating on this amazing, one of a kind, ranch. 
When you're looking for that perfect getaway beach, it's finding a spot that's not overrun with tourists that's the real challenge. But that's exactly the kind of place you'll find when you visit any of the parks here in Amelia Island. The island is so beloved because of it's quaint and non-commercialized nature. Come visit our upscale resorts, world-class beaches, historic sites, golf courses, spas, restaurants, and more to see why Amelia Island has been a well-kept destination secret for generations.
About the Island
Amelia Island is just 30 miles away from Jacksonville, but you'll feel as though you're in a different world of luxury with the element of nature when you see the world-class resorts and amenities as well as the pristine beaches and natural wildlife. In addition to resorts, you'll find a wide selection of bed and breakfasts scattered across the island.
The Island was settled nearly 300 years ago, and it has seen as many as eight flags fly over it since: French, Spanish, British, Floridian, Green Cross, Mexican, Confederate, and The United States. The island has quite a few historic sites to explore.
The original inhabitants of the island, the Timucuan, enjoyed the bounty of the salt marsh. Later, European settlers established profitable plantations in the area growing sea island cotton, sugarcane, citrus and indigo. Modern vacationers have since enjoyed the park for its fishing, shelling and wildlife viewing.
Amelia Island State Park sits at the southernmost end of the 13-mile barrier island in northeast Florida for which it's named. A popular destination for fisherman throughout the area – particularly along the mile-long George Crady Bridge Fishing Pier which closed to car traffic in 1999 – Amelia Island State Park protects more than 200 acres of magnificent shoreline, salt marsh and maritime forest.
Amelia Island State Park serves habitat to nesting shorebirds, including Least Tern and Wilson's Plover, from March 1 – September 1. During these months, long sections of the dunes are roped off to prevent visitors from intruding on and crushing the nests. Amelia Island State Park is not frequented by nesting sea turtles, but there are many protected gopher tortoise abound. These are land tortoises with "long" legs, not flippers, so don't put them in the water because they will drown.
We welcome you to visit all seven of the Amelia Island State Parks that collectively compose Talbot Islands State Parks: Pumpkin Hill Creek Preserve State Park, Little Talbot Island State Park, Fort George Island Cultural State Park, Yellow Bluff Fort Historic State Park, Big Talbot Island State Park and George Crady Bridge Fishing Pier State Park.
To learn more about this wonderful island and its parks, click here: Amelia Island State Park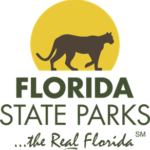 Beach Horseback Rides on Amelia Island
Considering the natural beauty of the island, there are few better places to take a horseback ride through the scenery. In fact, Amelia Island has some of the few beaches that still allow horseback rides on the beach. The superior packing sand of Amelia Island's beaches supports horses better than most beaches do.
Allow us to give you the experience of a lifetime by pairing you with a horse to take you on an adventure down our natural white-sand beach in full view of our teal-colored summer water. When you're finished with your ride, there are so many things to do all over the island.