There are few better feelings in the world than waking up early enough on your beach vacation to greet the sun in the morning amid a beautiful view all the while riding a horse down the beach …..,
Or the last thing your do in the evening before heading back to your hotel for the night is catching the suns last rays….
Yeahhhh, now that 's how you to create memories that will last a lifetime!
Here at Happy Trails Walking Horses, we will make that happen for you.
Good Morning & Good Evening Horseback Rides in Amelia Island
Picture this: you're on a much-needed vacation in Amelia Island, FL. You wake up just as the sun takes its first peek into the new day one morning. You join us onsite at our actual horse ranch located on the beach. You are greeted by one of our hard working Guides who has readied a horse just for you. The Guide pairs you with one of our stunning Tennessee Walkers who takes you on an amazing hike through a trail full of luscious Florida vegetation alive with woodland creatures. You start to smell and feel the fresh air of the morning wind from the sandy beach. Suddenly, you're out of the woods where you are greeted by the sun as it make its rise over the water, creating birth of a new day. All the while you are taking pictures to capture the amazing experience. Good Morning!
Or you've had a crazy work meeting in the area and just need to close your day with something that would just soothe your soul, mind, body, and spirit. Ending your day with an adventure out of the norm to take you away to another place and time. Yesssssss…… Good Evening!
This experience is exactly what you'll get when you book a guided Good Morning or Good Evening horseback ride with Happy Trails Walking Horses – a fun and exciting adventure that you'll remember and cherish for the rest of your life.
If you're headed to Northeast Florida or Southeastern Georgia for vacation or even if you live nearby and have always wanted to try a horseback ride, we recommend booking on our website as soon as you can. It, most times, is best to book at least a week in advance during the winter and at least a month early if you're planning to come between March and Labor Day. We can always see if we can take your booking even sooner than that if the urge just suddenly hits your heart. 
We ask that you show up 15 minutes early to prepare for the ride. We welcome guests of all experience levels. Don't be scared off if you've never ridden before. Believe it or not, most of our customers have never even pet a horse before riding with us. For all of our riders, we give a quick lesson before the ride begins. From there, you'll be assigned a horse and will begin your one-hour journey. See our main page for more recommendations to make your experience in the area even better.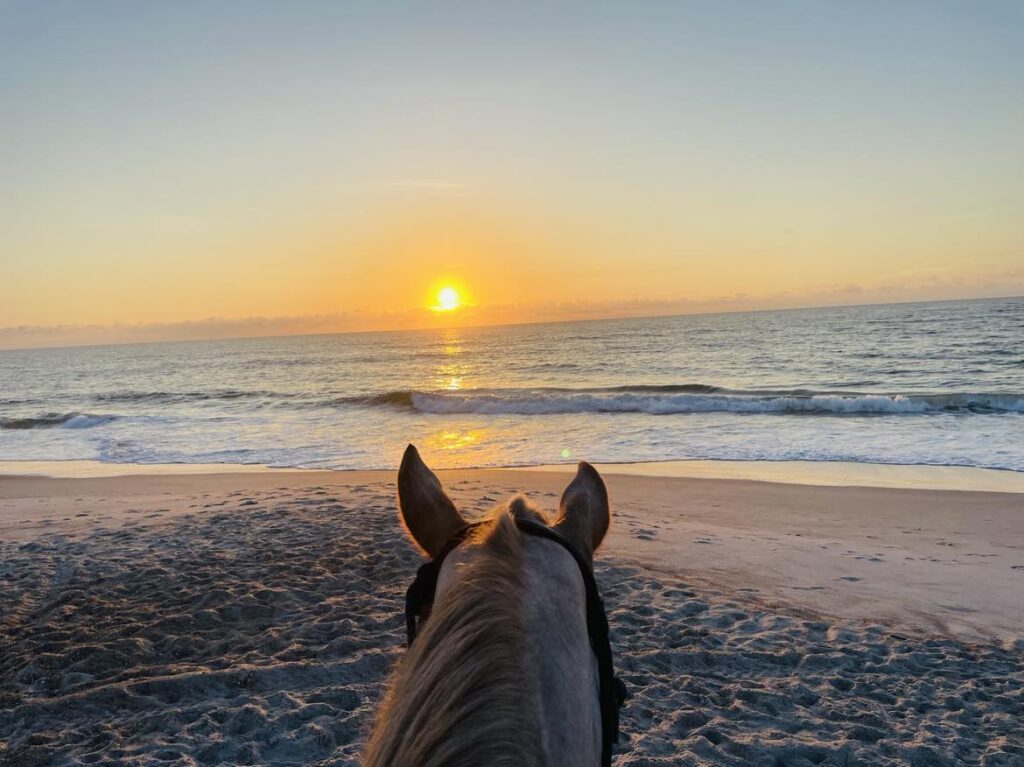 Happy Trails Walking Horses in Amelia Island, FL
At Happy Trails Walking Horses, we were in the business of breeding friendly and beautiful Tennessee Walking Horses for a number of years. Now we just concentrate on providing an amazing memory for all our customers. We want to make sure you have the chance to experience the magnificence of these animals as well. Many of the horses are direct descendants of Trigger, the horse Roy Rogers rode in many Western films of the 1940s and 50s.
You can capture your new memories of this adventure by taking your own pictures, but we can also capture photos for you, should you provide and request assistance from your Guide. If this all sounds good to you, book a ride today!
Prepare for your adventure with us
Please arrive 15 minutes prior to your ride start time so our Guide can get each rider set properly equipped for the Adventure.
Each rider will be required to sign a waiver (riders under 18 will need to have Guardian sign the waiver).
ALL Riders of the horses MUST:
– be over the age of 13 and no less than 4 ft tall (to reach the stirrups)
– be accompanied, on the ride, by their legal guardian if they are under the age of 16
– be under the weight of 240lbs
– be able to mount and dismount on their own (we can provide a step to assist)
– be able to physically hold themselves on the horse without assistance
– be able to physically control the horse with the reigns, after receiving riding lesson and safety brief
– be able to see and hear riding lesson and safety brief
– be able to understand (in English) and implement instructions that are provided to them.
– Wear close toed shoes (i.e.: Sneakers, boots, but not sandals or crocks or slip on type shoes)
– Wear a provided helmet (you may wear a ball cap, bandanna, or scarf to protect your hair under the helmet)
Happy Trails also recommends:
– wearing long pants
– wearing secure and tight bra or sports bra for ladies
– wearing briefs or an athletic supporter for men
– wearing sunscreen and bug spray
– wearing hair style suitable for a helmet as to not interfere with safety (you may also wear a bandana to protect hair under helmet)
– wearing sunglasses
– drinking water prior and post riding to prevent dehydration and muscle cramps
– having a phone case that can be connected to the body in the event phone slips from hand
– wearing a securable close to the body pouch to keep keys and wallets in (i.e.: fanny pack)
– dress appropriate for the weather (i.e.: if its cold outside, it may be colder on the beach)